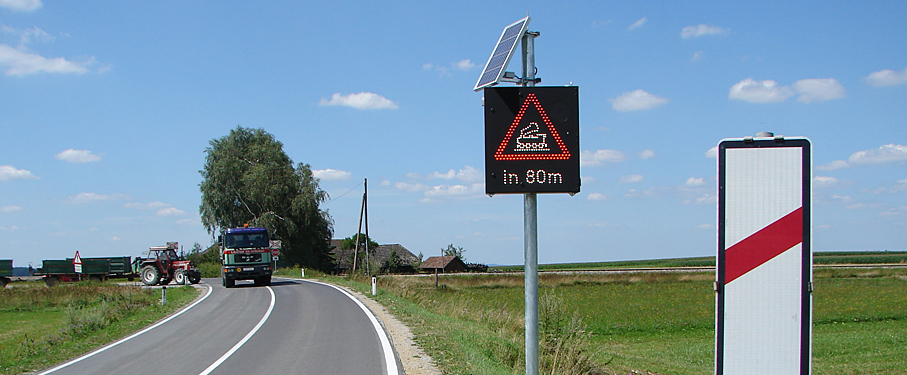 Variable message signs are a cost-effective solutions to increase road safety at critical infrastructure points (e.g. level crossings, zebra crossings, industrial areas,…). It displays the warning sign combined with information about the distance to the critical point. The optical characteristics comply with EN 12966 (European standard for variable message signs) and guarantee perfect perceptibility, even under adverse weather conditions.
Variable message signs are proven to have a positive effect on road behaviour at black spots, such as level crossings.
Function
Variable message signs are installed roadside, ahead of the critical infrastructure points and start blinking in case of an approaching vehicle. The detection of road users occurs directional selective through a built-in sensor. The integrated sensor and control unit enable the system not only to detect any approaching vehicle, but also to continuously record traffic data. Through the integrated wireless communication module the traffic data and the system messages are transmitted periodically to a central based server.
Summary
+ Increase safety at critical infrastructure points
+ High availability due to remote monitoring
+ Activation signal provided by approaching cars
+ Continuously record of traffic data
+ Event Logging and error forwarding via SMS and email
References
+ Großgemeinde Bruckneudorf
+ Marktgemeinde Pfaffstätten
+ ÖBB Infrastruktur AG
+ voestalpine Krems GmbH