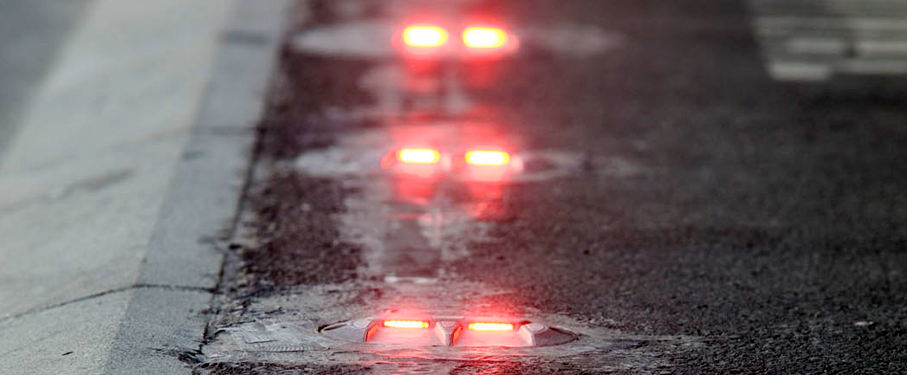 Lane Lights are a perfect solution for advanced warning of upcoming critical infrastructure areas (e.g. level crossings, zebra crossings, industrial areas,…). The high light intensity is proven to work as an optical barrier, which raises alertness and induces drivers to stop at critical points.
Function
The Lane Light system consists of ground-based LED-road markers and a compact control unit. The lights are built inside the road surface and lit up, if a vehicle approaches the critical infrastructure area. In addition to these basic functions the controller performs multiple modes of operation such as dimming, blinking and continuous system monitoring. Furthermore the control unit is equipped with a communication module, which allows constant remote monitoring. Thus immediate action can be initiated, if a malfunction, such as light defect or power failure occurs.
Lane Lights comply with European standards for roadside equipment and are built in robust, flat enclosure.
Summary
+ Increase safety at critical infrastructure points
+ High availability due to remote monitoring
+ Activation signal provided by approaching cars
+ Snow-plough proof
References
+ Castrol Austria GmbH
+ Ecoplus Wirtschaftspark IZ NÖ Süd
+ ÖBB Infrastructure AG
+ Vienna International Airport